JDS believes that human resources are very valuable assets and provides our services with the cooperation of the people of organizations helping students, including host universities, stakeholder organizations of the subject countries of the program and JICA taking the wishes as well as circumstances of each student into consideration.
Examples of Projects
01 Fostering of Future Leading Government Officials
Under the 100,000 Foreign Students Plan of the Government of Japan, the JDS is a grant aid cooperation scheme which was newly introduced in FY 1999 to invite foreign students to study in Japan, and 3,700 foreign students from 15 countries in Asia and Africa have so far benefited. The targets are young administrative officials who are expected to become leading officials in the region or their respective countries. Those accepted receive specialized education for two years at a graduate school and return home with a master's degree. On their return, they are expected to work as public servants of their own countries with specialized knowledge obtained during their study in Japan to strengthen their society and also to contribute to the consolidation and expansion of the foundations for friendship between their own country and Japan as people who are knowledgeable about Japan.
・JDS Achievements
Japan Human Resource Development Scholarship (JDS Program) for Ghana: 45 people accepted
Japan Human Resource Development Scholarship (JDS Program) for Sri Lanka 60 people accepted
02 Fostering of Human Resources Contributing to the Development of Social and Economic Development
Long Term Training is to offer opportunities to people from developing counties to study Universities in Japan and to help them to build networks. This is intended to assist in the human resource development plans of the government of developing countries and Japan, and eventually to expand and strengthen bilateral ties between the developing countries and Japan.
・JDS Achievements
Master's Program on "Development of Core Human Resources in Agricultural Sector in Myanmar" :15 people accepted
03 Fostering of Human Resources Creating the Future their country
It is a program that utilizes the framework of technical cooperation projects, accepts human resources who will contribute as trainees in Japan, and provides educational opportunities.
・JDS Achievements
Japanese Initiative for the Future of Syrian Refugees 19 people accepted
Principle Contents of Our Support
Field Work
In collaboration with the head office, staff members of an on-site project office provide the necessary support.
Recruitment of candidates for the scholarship … PR activities are conducted locally in cooperation with a steering committee of which the members include counterpart organizations (government ministries, etc.) of the target country.
Support for the selection of students … Support is provided for all aspects of selection from initial screening based on the application documents and the implementation of a language proficiency test to the management of interviews by host universities.
Orientation before departure to Japan … Information is provided on life in Japan and training is given on Japanese culture and Japanese language before departure to Japan.
Work in Japan
Consistent close support is provided from arrival in Japan to return home.
Support for enrolment formalities at graduate schools … Acts as an agent for the application as well as admission procedure and any necessary payment.
Support for visa application, etc. … Air tickets to and from Japan and a student visa are arranged.
Orientation after arrival in Japan … Japanese customs, social rules, etc. are explained and Japanese language training is given on arrival in Japan to ensure a smooth life in Japan.
Support for living, including the arrangement of accommodation …. Support is provided for apartment hunting, leasing agreement and settlement and handling of procedures involving public offices, etc. as essential parts of life.
Regular monitoring …. Personal interviews are held every three months to check the state of progress of the study or research, life and health.
Meeting at home to report the training results … A meeting is organized on the student's return home to report the results of the two years study in Japan to the stakeholder organizations.
Other Support Activities
A watchful eye is kept on the performance of the students on their return home.
Post return meetings … former students are helped to present their study results to the stakeholder organizations as well as their affiliated organizations.
Checking of the return of students to their previous workplaces … The positions given to former students after their return are checked and further support is provided for them to become useful human resources in their own country.
Fostering of knowledgeable persons about Japan … Opportunities are provided for former students who have return home for them to act as advisors with practical knowledge of Japan for the next generation of students and also for the promotion of exchanges with local Japanese subsidiaries.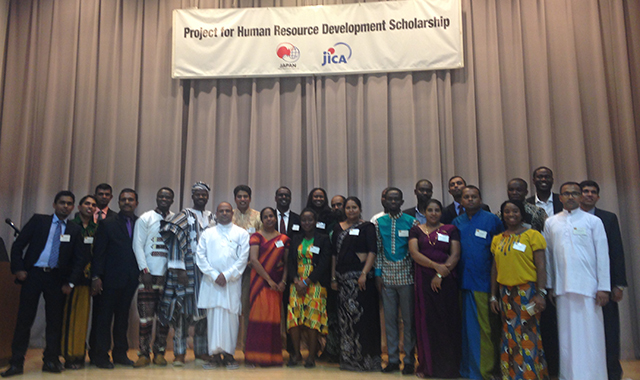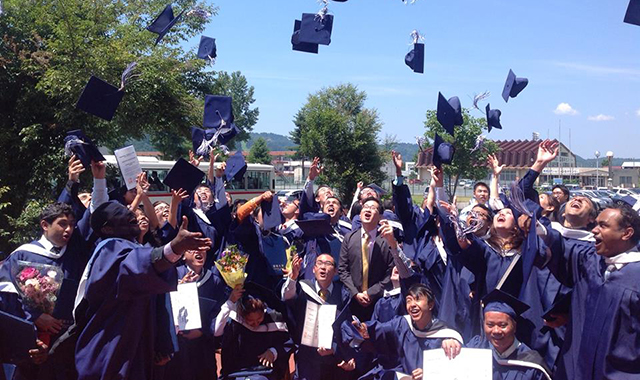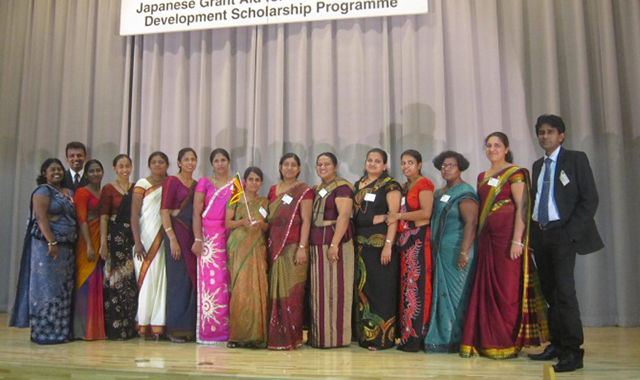 INTRODUCTION